Contact tracing for COVID-19 has officially begun in restaurants in most states. Here in Shelby County, Tennessee, the Health Department directive was announced July 8th. It's possible that other businesses may soon be required to follow the directive as well.
Optimal Process has developed an efficient, simple to use software to quickly capture your customers contact information. No pen and paper required.
The customer scans a QR code using their phone and it sends them to the form. They enter their information and they are done. Below is a screenshot of a contact tracing form.
Form for contact tracing: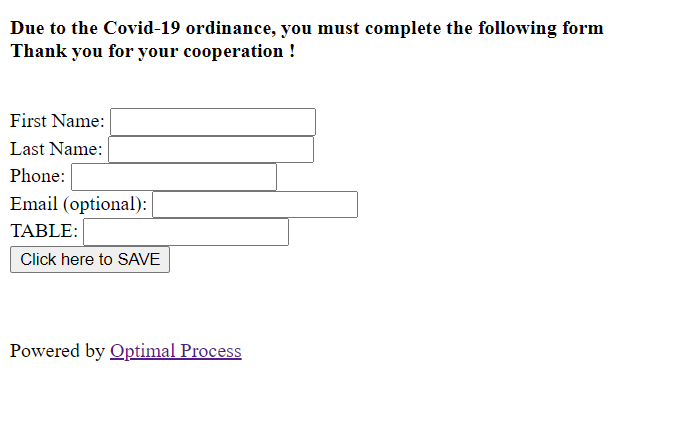 Besides the obvious advantages to using this simple software, another major advantage is allowing your food service employees to remain focused on their primary responsibilities. During this time of reduced hours and seating in restaurants, which equals reduced staffing, you can't afford to dedicate too much time and effort to collecting data. Let this software do all the work for you. Also, the software requires minimum, if not zero training for your staff.
It's all kept in a database so it's easy to extract if needed. The following screenshot is an actual example of a database (names, numbers and emails were changed for privacy) from our favorite local coffee shop that has been using the software.
Database

---
Learn More with a Free Trial